Wedding / Civil Ceremony Displays
Your day is planned to perfection.  Let us perfect your evening.
Jubilee Fireworks has been creating beautiful unique firework wedding displays for almost 30 years.  As such, we recognise that magical moments are intrinsic to your most special dream day.
As the most awarded display company in the UK, you are assured that our attention to detail from your first enquiry to the final performance will exceed all expectations, bringing all parties together under a painted sky of celebration and union.
We perceive a fireworks display not only to be a work of art, but as a talking point which can bring people together.  After a beautiful display, everyone in the wedding party has something to talk about, even with someone they only just met within their new family.
Our vast repertoire of pyrotechnics is such that you can select from a wide spectrum of firework colours to match the occasion – a ruby anniversary, or a violet and silver colour themed wedding, for example.
With a range of perfect displays to suit every budget and occasion, Jubilee Fireworks offers the ultimate in pyrotechnic entertainment. The artists and technicians whose work in recent years has delighted countless people are ready and waiting to bring their talents and enthusiasm to you and your guests.
A selection of our most popular wedding displays are detailed below, plus tailor-made suggestions to make this the display of your dream day.
They were absolutely extraordinary. They were like the wedding of the Dauphine in 1745 – really transporting!

Lord Julian Fellowes
We wanted our wedding celebrations to unite everyone from both families and we thought what better ice-breaker than an amazing fireworks display to give everyone something to talk about, even with someone they met for the first time that day. It was perfect.

Alexandra Barlow
Thank you Jubilee Fireworks for giving us the most perfect finale to our wedding day at Blakelands 29th August 2015. Music and display was incredible.

Kerry Williams
Hi from Kim Shaw Photography. Your fireworks at Ross & Amanda's wedding at the lovely Haughton Hall on Saturday were fabulous!

Kim Shaw Photography
Thank you Jubilee Fireworks. From our first email to the moment the fireworks went off, you made us feel completely in control and so at ease, and that no detail was too much.. You even included fireworks to match our wedding colours! Everybody was stunned and we amazed that you could do a display that wasn't noisy that was so spectacular.

Katie Lane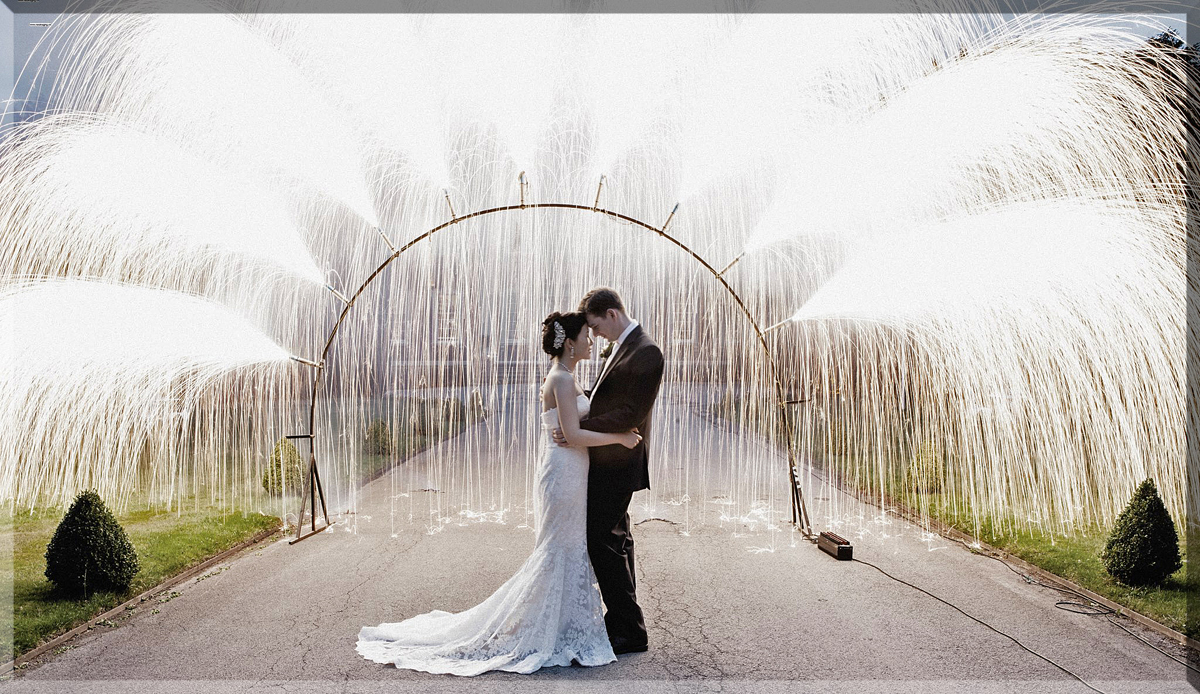 A display to suit your every need.
A great deal of thought and planning will go into your wedding preparations. Everything has to be just right – the venue, the music, your menu, the choice of floral arrangements.
We can offer the most extensive range of options to help you celebrate in grand style. As pyrotechnic specialists, we guarantee a fantastic visual experience – that will justify the money you spend and astound your guests. Night or day, indoors or out, we can cater for all venues, locations and budgets.
Our standard Wedding displays range from just £695 for a beautiful 6-minute fireworks display, to £1500 for a 12-minute spectacular sky-filled Extravaganza.  We have five different and enchanting styles, all of which can be adapted to suit your venue.  You can see everything that we provide in each display type in our online wedding brochure.
Our state-of-the-art equipment allows us to programme each effect to the millisecond, ensuring that your fireworks will light  the skies in synchronised harmony with the music.
We offer a range of optional enhancements to add that extra sparkle and impact to your display. Popular choices include 'Hearts In The Sky' and a stunning Encore Finale, and for lakeside settings our magical waterfall set-piece will add a touch of beauty and elegance.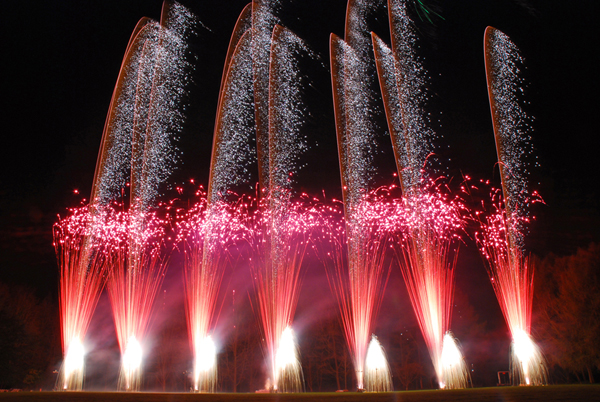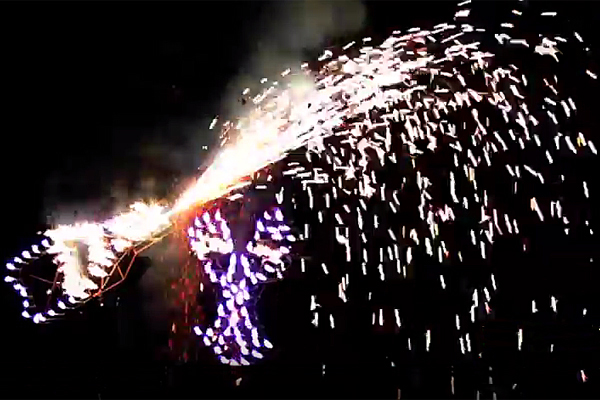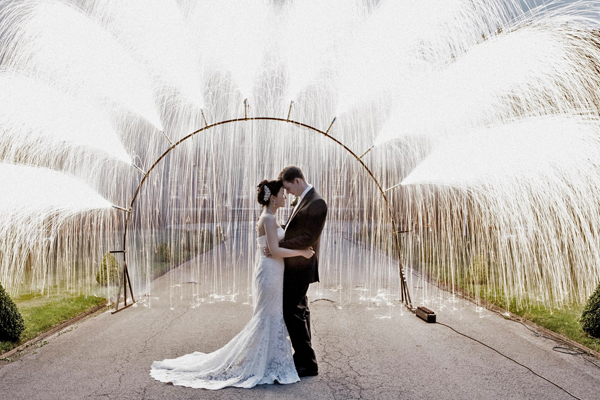 For venues where noise is a concern, we can adapt our standard displays or offer alternative styles of show which still combine visual impact with stunning effects – at a significantly lower sound level.
Why not personalise your display with a specially made set-piece – unique to you.  Options include a red heart with initials, an exploding champagne bottle, or a special message of your choice created in illuminating fire-writing.   Say it with fireworks!
If you are looking for something really special, let us create a superb centre-piece – designed to capture a unique photo opportunity.  Examples include the stunning Fountain Archway (featured above), or an avenue of silver fountains along the driveway as you make an elegant exit from the venue.
Our services before and on your big day.
Our aim is to guarantee a stress-free experience and our professional service includes:
All pre-display consultations and quotations (entirely without charge)

Liaison with the venue, where applicable

Site visits (usually essential with new venues)

Show design and planning

Provision of all fireworks and manpower

Set up and firing of the display

Thorough clean up following the display

Public and Products liability Insurance Cover: £10 million
For larger 'bespoke' displays, we also offer a personalised design service, which includes private consultations at our offices or your home.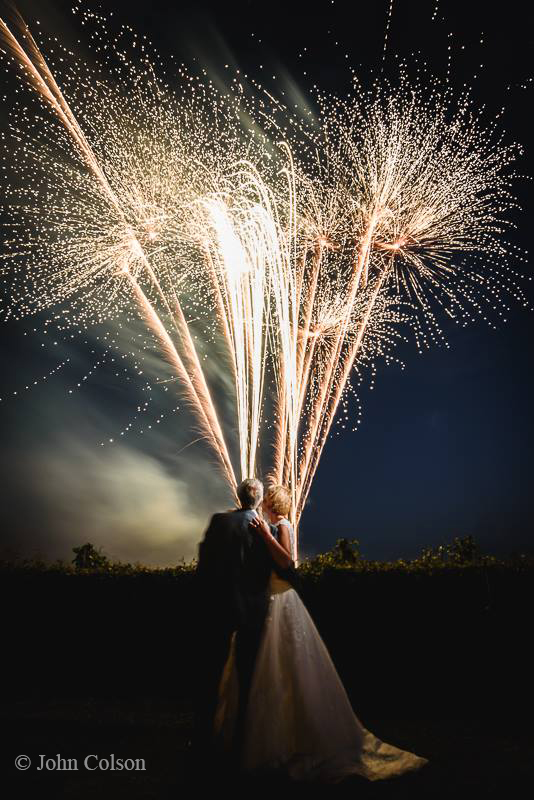 Location, Location, Location
Every wedding venue is uniquely different.  At Jubilee Fireworks, we have designed displays for every conceivable landscape.  The grounds of your wedding venue will be suited to some effects more than others, and of course the surrounding area must be taken into consideration, especially in rural locations.  That is why we are able to design stunning displays for all kinds of venue, such as low-noise displays in more rural areas, aerial displays in locations where ground effects would be unsuitable, beautiful geometric choreography for lakeside displays, and exciting set pieces to enhance your celebration within its beautiful surroundings.  Here are a few video examples to illustrate different types of display in very different locations.
For more details of all displays and effects shown above, please get in touch with us for a Wedding Brochure and a pricing booking form.  
Paint the skies on your dream wedding day with the UK's most awarded fireworks company.   

PLEASE ENQUIRE